Top Ten Tuesday is hosted by The Broke and the Bookish. This week's top ten is about which characters I didn't like. There are many characters I haven't liked but these are some of the most memorable. Just a fair warning: there may be some spoilers ahead.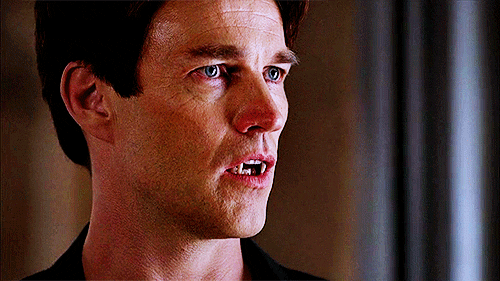 Bill Compton from the Sookie Stackhouse/Southern Vampire Mysteries by Charlaine Harris. IDK what it was with Bill, but he rubbed me the wrong way from the first book in the series. He was old fashioned. His outdated values applied to what he expected from women, and that doesn't fly with me. Aside from the fact that I did not like his personality, he was a rapist. Yeah that's right. A rapist. And the person he raped was Sookie Stackhouse, the main character of the series. He didn't atone for what he did either, so in my book he was one hell of a douchebag.
Connor O'Dell from October Daye by Seanan McGuire. He was a nice guy, but he was soooo boring. Some of my negative feelings towards him may have simply been that he was an obstacle in the way of Toby and Tybalt having a relationship. And I loathe seal sex. If you don't know what I'm talking about with the seal sex reference, just consider yourself lucky.
Ivy Tamwood from The Hollows by Kim Harrison. I almost gave up on this series because of her. Her feelings for Rachel were borderline creepy especially because of her being a vampire and the odd behaviors of vamps in this series. She was always on the verge of losing control with Rachel, but it was always forgiven because she was a vampire and couldn't help herself. That shit didn't fly with me.
Sam Merlotte from the Sookie Stackhouse/Southern Vampire Mysteries by Charlaine Harris. He was an okay character I guess, but I never clicked with him. He was extremely judgmental, which is something I can't stand. To be accepted in the community he did things like going to church, so I never found him to be truly genuine.
Ricky Gallagher from the Cainesville series by Kelley Armstrong. He is the guy in a love triangle that I don't like. I admit that I would like him a little more if he was a friend instead of a love interest. He has this weird dichotomy between being a super nice guy and a bad boy. He is part of his dad's biker gang; yet he can be sweet and is going to college. Plus I feel like there is more than meets the eye with him, and I don't trust him.
Charley Davidson from the series of the same name by Darynda Jones. TSTL, annoying, and childish. I may give up on this series because I can't stand her. It's too bad because I love the side characters.
Kat Boleyn from the Sebastian St. Cyr series by C.S. Harris. I just never liked her. She was Sebastian's first love, and they had no chemistry. Her personality wasn't appealing either.
Dani O'Malley from The Fever Series by Karen Marie Moning. I hate her. Not exactly sure why. I found her to be obnoxious and annoying. The recent developments with her character have drastically changed her, but I don't like her any better than I did before.
Saetan SaDiablo from the Black Jewels trilogy by Anne Bishop. First of all the weird spelling of his name annoyed me. He wasn't very bad ass considering he was satan. Half of the time he sat around gossiping like a teenage girl. I had expected a lot more from him.
Jane Yellowrock from the series of the same name by Faith Hunter. She definitely knew how to kick some ass, but I just couldn't like her for some reason. Her beast form was odd. Her waffling opinions about men were irritating. For some reason it got on my nerves that she could kill for a living but premarital sex made her feel guilty.