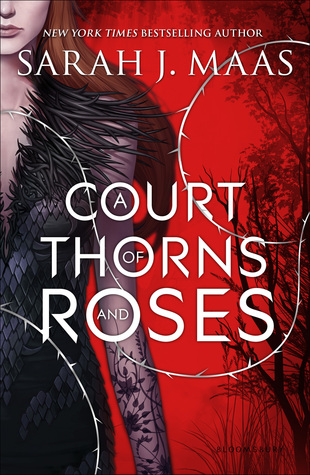 Rating: 3 stars
Series: A Court of Thorns and Roses #1
The cover and the title were far more interesting than the book. I had been dying to read this. It wasn't bad but was far more dull than I had been expecting. Some parts dragged. Certain elements that were meant to give depth to the characters were simply boring and pointless like how Feyre loved to paint. Unless she can wield magic with her paintbrush, I don't give a fuck.
Feyre killed a wolf that was fae. She killed it because she hated fairies, which didn't make sense to me. She wasn't 100% sure the wolf really was fae, and why did she hate the fae anyway? The stories about them were not good, but it wasn't clear why she hated a group of people who she had no contact with. The people in her life that were worthy of her hate was her family. They were all assholes. They treated her like crap and used her too.
There were consequences for killing the wolf. She had to spend the rest of her life in the fae territory. Sounds horrible, right? She was swept away to lush, beautiful lands with a temperate climate. The homes were grander and more opulent than any in the human world. She was given anything she desired except to go home. It wasn't even required that she remain with Tamlin who brought her to the fae territory. She was free to roam anywhere within the realm. Honestly it seemed like she won a prize rather than was being punished.
Tamlin was okay for a love interest. The problem was that he didn't stand out. Lucien and Rhysand were far more interesting. I liked Tamlin and Feyre together, but why did they love each other? Tamlin did take her from her miserable existence, which scored him some points. What did he see in her? Feyre wasn't particularly smart or witty. I didn't click with her. Why was she alive by the end? She made many bad decisions which could have ended her life.
Feyre was not a virgin. Color me surprised! This was YA too. Normally the women in PNR especially YA PNR are saintly virgins. The best part was that the dude she was sleeping with wasn't even someone she gave a shit about. I was seriously fucking impressed. This situation is rare in this genre, but not so IRL. I hate the misconception that women must or should be in love to have sex. No one called her a slut or a whore for sleeping with the guy either.
The end of the book didn't appeal to me. Since this was a Beauty and the Beast retelling, love was the key to breaking the curse. Then why does the story delve into what could be a love triangle? I hate love triangles. I probably won't read the rest of the series because of this.